It's the end of the year, and we just thought that it would be great to share with you our top 10 articles on natural hair, skin and lifestyle for 2014. It's been a great year and we look forward to sharing more natural hair and lifestyle tips with you in 2015. But for now, here is a countdown for this year's faves:
#1.  Tgin Natural Hair Basics: The Dos and Dont's to Keep Your Curls Looking FRESH!
One of the most important things you can do for your hair's growth and strength is to develop a sure-fire hair regime. The challenging part is actually figuring out what works. (Go fig!) Take a gander at this list we've developed and see if some of our suggestions help make a difference.
#2.  Combs and Brushes for Natural Hair
Should you or should you not comb or brush curly, kinky, nappy hair? In my opinion nothing works for everyone and there is not right or wrong answer. Some like to brush conditioner in their hair, others may not like their hair combed or brushed at all. Try various ways to see how it reacts to your hair.
#3.  6 Tips to Make Your Twist Out Last
Twist outs are one of the more popular hair styles for naturals. If you've been natural for a while and have noticed some growth, your twist out is probably full of life and gets a lot of heads turning too!  But twist outs are kind of like that friend who comes over, eats all the food, and then just dips! For whatever reason, a lot of women can't seem to keep their twist out from twisting out.
#4.  Natural Remedies For Dark-Spots – For Every Skin Type
Before purchasing expensive, and often times harsh, dark spot treatments, look in your own pantry or refrigerator for one of these natural lightening and toning remedies instead. All of these natural remedies can be used on the reg, and can show great results for any skin tone. Be consistent and use these all natural remedies once or twice a day for two weeks straight and be amazed!
#5.  How to Transition Without Doing the Big Chop
With the new year finally here, what better way to kick-start the new you than by saying sayonara to relaxers and hello to your natural hair! Transitioning will take time, energy, effort and you will swear your hair has a mind of its own, because there will be days it just won't listen to you! None the less, we've got all the deats to help you get past this.
#6. Faux Locs on Natural Hair in 5 Steps
Faux locs have become all the rage and for good reason. This style is perfect for anyone who wants to see how locs will look on them but isn't ready to commit, wants to start the loc process, or simply wants a temporary new hair style. Here are a few tips on effortlessly achieving this look:
 #7.  Curly Wigs: Protective Style Option for Natural Hair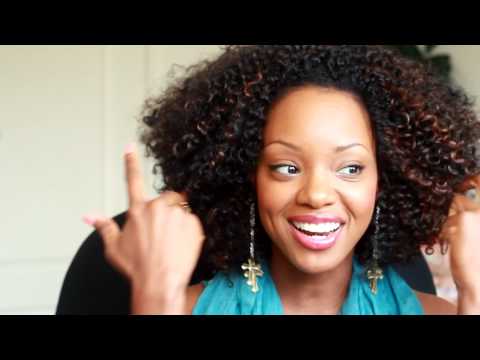 If you're looking for a quick and easy protective style, choosing to wear a wig from time to time may be a useful option. Curly wigs are great because you can still rock a texture similar to your natural hair while keeping your ends protected. Here are some of our faves!
 #8.  25 Professional Natural Hair Styles for the Workplace
Before you decide that your workplace is no place for your hair, convince yourself otherwise and try out any of these 25 gorgeous styles for natural hair! Perfect for work, corporate, and/or those moments when you just feel like being a little fancy.
#9.  TGIN's Tips for Your Natural Hair Bed Time Routine
Naturals around the world spend hours in their bathroom combing, moisturizing, spritzing and all that hair care jazz just to make sure their hair is at its best. Truth is, the real magic happens at night.
When fall makes its grand entrance, our immune system and metabolism begin preparing for the cold weather, decreased fresh air, heavier foods, and frenetic pace of the fall and winter.  Give your body a rest and try our super easy recipe below first thing in the morning or after a heavy meal to balance blood-sugar, rev up fat-burning, aid digestion, and detox the gall-bladder.